Tag:
hone
Beck-Fields – Hone
(nore013)
Released October 9th 2015
iTunes [Mastered For iTunes]
Bandcamp
Bleep
Spotify
Juno Download
Amazon
Beatport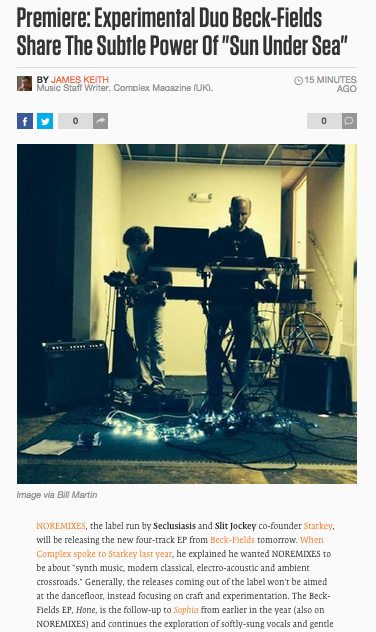 Complex UK have premiered another track from the new Beck-Fields EP, Hone, entitled "Sun Under Sea".  In their own words, 'Sun Under Sea' "continues [Beck-Fields'] exploration of softly-sung vocals and gentle synth washes against frenetic, but sparingly used, IDM beats for a mesmeric listen."  The EP is released tomorrow, October 9th, and can be pre-ordered on our Bandcamp page.
Check out 'Sun Under Sea' by visiting the Complex site here or by clicking the image above.
We are really excited to announce the 2nd release of 2015 from Wilmington-based duo Beck-Fields! The 'Hone' EP was improvised and recorded live with no overdubs the evening of July 29th 2015. The EP finds the duo refining their sound with added vocal presence and immediacy, as well as pushing the complexity of the percussive elements of their music.
The EP is available to pre-order on Bandcamp now. You'll receive an instant download of 'Dream Another Way' (taken from the EP) which you can preview below.